Here is the article about Raging Bull: Director, Producer, Writer, Cast, Story, and Release Date. Raging Bull is a biographical film based on mainly sports drama. It was released in 1980. Raging Bull is an American-based drama film.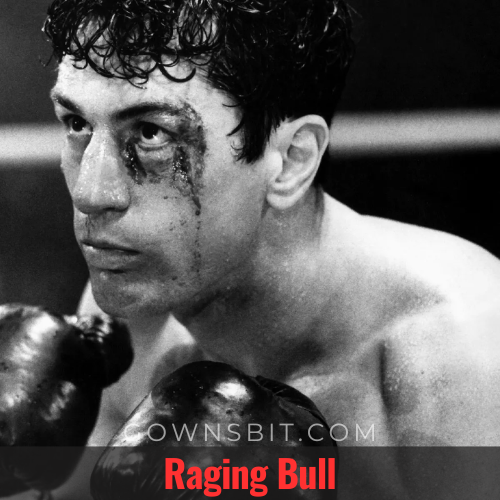 Who is The Director of Raging Bull?
Martin Scorsese is the director of Raging Bull. Martin Charles Scorsese was born on November 17, 1942. He is a very famous and well-known American film director. Besides direction, he is also a great producer and screenwriter. He is also recognized as an American actor. Scorsese is one of the majors emerged figures of the New Hollywood era.
Who is The Producer of Raging Bull?
Robert Chartoff and Irwin Winkler are the producers of Raging Bull. It is mainly adapted by Paul Schrader and Mardik Martin.
Writer of Raging Bull:
Joseph Carter and Peter Savage wrote the Raging Bull. They got the concept from Jake La Motta.
Cast of Raging Bull:
Following are the people included in the cast of Raging Bull:
Robert De Niro as Jake LaMotta
Joe Pesci as Joey LaMotta
Cathy Moriarty as Vickie LaMotte
Nicholas Colasanto as Tommy Como
Theresa Saldana as Lenora LaMotta, Joey's second wife
Frank Vincent as Salvatore "Salvy Batts"
Lori Anne Flax as Irma LaMotta, Jake's first wife
Mario Gallo as Mario
Frank Adonis as Patsy
Joseph Bono as Guido
Frank Topham as "Toppy"
Charles Scorsese as Charlie
Geraldine Smith as Janet
Candy Moore as Linda
James V. Christy as Dr. Pinto
Laura James as Mrs. Bronson
Peter Savage as Jackie Curtis
Don Dunphy as Himself
McKenzie Westmore as Stephanie LaMotta
Gene LeBell as Ring Announcer for Reeves Fight
Shay Duffin as Ring announcer for Janiro Fight
Martin Scorsese as Barbizon Stagehand (voice)
John Turturro as Man at Webster Hall Table (uncredited)
Coley Wallace as Joe Louis
Who are the Opponents of La Motta?
Following are the opponents in this movie:
Johnny Barnes as Sugar Ray Robinson
Bill Hanrahan as Eddie Eagan
Kevin Mahon as Tony Janeiro
Eddie Mustafa Muhammad as Billy Fox
Floyd Anderson as Jimmy Reeves
Johnny Turner as Laurent Dauthuille
Louis Raftis as Marcel Cerdan
Plot of Raging Bull Movie:
Jake La Motta starts to practice a comedy routine In 1964. He is an aging, overweight Italian boxer in the play.
LaMotta suffered his first defeat in a crucial boxing contest against Jimmy Reeves in 1941. With one of his Criminal connections, Salvy Batts, Jake's brother Joey talks about a prospective run for the middleweight belt, but Salvy Batts continually declines the mafia's assistance.
After a while, Jake sees Vickie, a fifteen-year-old girl, at a public pool in his Bronx neighborhood. Even though he is already married, he finally seeks a relationship with her. After defeating Sugar Ray Robinson in 1943, Jake faced him again three weeks later. Despite Robinson winning the fight handily over Jake, Joey believes Robinson only prevailed because Jake was enrolling in the Army the next week. Jake marries Vickie in 1945.
Vickie's statements on Tony Janiro, Jake's opponent in his upcoming fight, in particular, cause Jake constant worry that she harbors feelings for other guys.
Vickie, who Joey speaks with, claims she has given up on his brother. Joey accuses Salvy of the altercation, and when it spills outside the club, he savagely assaults him. Later, Como demands an apology from them and instructs Joey to inform Jake that he must first dive to have a shot at winning the championship title, which Como controls.
After momentarily pummeling his opponent in a contest against Billy Fox, Jake doesn't even attempt to put up a fight. He is accused of staging the fight and promptly removed from the board, though he only realizes his error of judgment after it is too late. After being eventually reinstated, he defeats Marcel Cerdan to win the middleweight belt in 1949.
Once more in 1964, Jake now quotes the line, "I could have been a contender," from the 1954 movie On the Waterfront, in which Terry Malloy bemoans the absence of his brother but is also willing to extend himself some leeway. Jake begins to chant "I'm the boss" while sparring after a stagehand warns him that the auditorium where he is due to perform is full.
When was Raging Bull Released?
The release date of Raging Bull is 19 December 1980. Its premier falls were held in New York on 14 November 1980 and it was screened in the theaters on the mentioned release date.
Was the Film a Success?
The film was a great success. The total budget of production for this movie was 18 million dollars but they gained a huge success with 23.4 million dollars at the box office.
Did the Film Face Any Criticism?
Overall the film was appreciated by the viewers but there was some criticism also that has been observed. The viewers found De Niro's performance as violent content and criticized the editing also.
Are There Any Awards Won By Raging Bull?
Yes, Raging Bull won many awards. Raging Bull was able to make it for 8 academy awards at the 53 academy awards. Not only this Raging Bull has been awarded the best picture award. Along with the Best Picture Award, Raging Bull also got the award of Best Director. And the most important awards, it won the award of Best Actor which was won by De Niro, and also the best editing award.