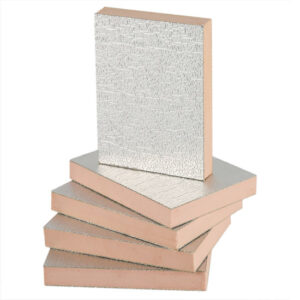 Both PIR and phenolic foams are rigid thermoset foams within the rigid insulation board family. But which one is better? In this blog, we'll be pitting two of the most popular types of insulation against each other – phenolic insulation and PIR insulation – to help you make an informed decision about which one is right for your needs.
PIR Insulation
PIR rigid foam insulation provides contractors and homeowners with three essential benefits: affordability, availability and thermal performance.
PIR(an acronym for polyisocyanurate) is a rigid insulation board; the "rigid" in its name stems from the fact that it won't shift after installation; it's a solid, foam material with no give.
PIR boards are made by mixing chemicals with a blowing agent, the result being low-density, closed-cell insulation sheets.
Let's break down their properties below:
Closed-cell structure endows the boards with excellent water resistance.

Certified thermal conductivity of 0.022 W/mK – PIR boards are one of the most efficient insulation materials, second only to Kingspan's Kooltherm phenolic insulation line.

PIR boards are combustible however some products are treated with a fire retardant to suit specific applications.

An efficient thermal insulation layer for multiple applications, including but not limited to solid masonry walls as internal insulation or partial fill cavity wall insulation. It's equally effective as floor and roof insulation.

The most commonly used thickness for applications is 100mm, with Celotex 100mm (

GA4100

) being the most popular board.
Phenolic Insulation
As with the PIR boards above, phenolic insulation boards also have a closed-cell structure. The difference, however, is that phenolic insulation boards are made from a fibre-free, rigid, phenolic insulation core (rather than polyisocyanurate). This allows the boards to achieve lower thermal conductivity values than PIR, with certain boards within the Kingspan Kooltherm range achieving as low as 0.018 W/mK.
This makes the Kooltherm range the most thermally efficient insulation solution available in the UK, coming up trumps when compared to Celotex.
Let's explore the specs:
Very low thermal conductivity means you can use less material to achieve optimal insulation efficiency.

Advantageous in building regulations where internal room space needs to be conserved, such as in plasterboard drywall lining systems and cavity walls.

Phenolic resin gives this product superior fire characteristics as well as very low smoke emissions when exposed to open flames.

Because of its low water vapour permeability and 90% closed-cell structure, it has excellent moisture resistance.
Conclusion
When it comes to choosing between phenolic foam and PIR foam insulation, it's important to consider your budget as well as the intended use for the insulation.
If thermal and fire performance is a priority then phenolic insulation is your best bet. However, if you're looking for thermal efficiency on a budget then PIR insulation may be a better choice for you.
Ultimately, the best way to decide which type of insulation is right for your needs is to consult with a professional who can assess your specific situation and make recommendations accordingly.