We really underestimate the purpose of the dining room. The place, where we eat, socialize, and sometimes, host a dinner party for a change. However, we often relegate it when it comes to adorning the space. We'll spend a fortune on living room and bedroom decors even though it doesn't require an upgrade. But we neglect and become frugal when it comes to styling a dining room wall. The dining room is such an important spot and deserves all your attention. Whether you want to style it or rearrange a few things—wall paint, wall art, or pieces of furniture, you'll find your inspiration in this post. Keep reading as I'll be sharing 8 amazing dining room wall decor ideas that'll make your guests and family members linger in for a few more hours. Let's dive in.
1. Landscape Painting
How do you decorate a large dining room wall? By covering its wall with a beautiful landscape painting. You have a choice of mounting a ready-made landscape wall art. But why do want to if you can flip your favorite landscape pictures into a painting? Maybe a picture you took from your last trip, or the one that is your desktop wallpaper. A landscape painting will give this space a feel that no other wall art will ever be. If you wish to mount a landscape painting to your dining room wall, look no further and place your order at PortraitFlip. You'll get the right type of landscape painting, which look profound and inviting, exactly as shown above.
2. Apply An Accent Paint
Apply a blue accent paint, since it's one of the inexpensive dining room wall decor ideas. Blue is in the rage, that'll add elegance and charm to your space. Make sure you apply it on one part that covers the maximum area, which will add depth and character to your dining room wall.
3. Place A Mirror
What do you put on a largely empty dining room wall? A mirror—that amplifies light in the space and creates a warm glow that you need while having your meal. For a farmhouse-style dining room, a mirror is a must, that goes along with furniture and wall paint. 
4. Add Monochromatic Shades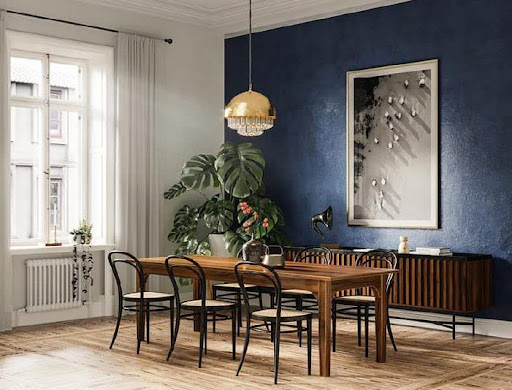 We envision monochromatic shades as rich and vibrant colors, but regular white & brown can also meet our expectations. Make full use of these colors, which embrace wall art, chandelier, and other pieces of furniture. This will make your dining room wall look more enticing and welcoming. 
5. Apply Mural Design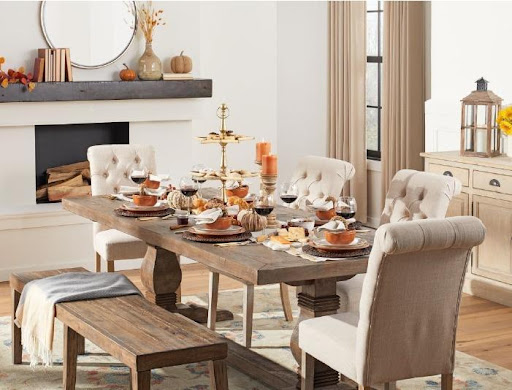 You must apply an intricate design to your dining room that is covered by a few pieces of furniture. This purple mural looks flawless with an adjustment such as a wooden side table, a six-chaired dining table in the center, with a round chandelier over it. It'll add depth and contrasting features to your dining room space you've never seen before. 
6. Keep It Matching
Make your dining room stand out by keeping walls, curtains, and every piece of furniture in the same pattern. It'll delight whoever enters the space with its vibe—as your curtains are as same as wall paints, that go along with floral cushioned chairs and a brown center table. 
7. Use Brick Walls
White brick walls go well with any modern furnishings. Whether you put shelving or an ottoman in the middle, these adjustments, that suppose to look messy, will appear as a focal point. White brick walls are magical and let insiders focus on other subjects. Even though brick walls make a spacious room look small, they still make each piece look mesmerizing. Besides, it lets a positive and refreshing vibe enter the environment.  
8. Full Wall Bookshelf
You don't like your dining room to be as messy as it used to be. Here's a great idea: install a full wall bookshelf that lets you keep your books, keepsakes, souvenir, and the list goes on. This will create a room for those items that you always wanted to bring in. Your dining room will look more like a bookstore. However, the calmness and environment it creates will let you linger in for a few more hours, even if the dishes are cleared. 
In Conclusion
Now, that you know the creative dining wall decor ideas, it's up to you whether you want to go ahead with a mural paint or monochromatic shades. The best and most cost-effective way is to mount a landscape portrait, which embraces colors, joyful memories, and art. This also adds features, making the wall inviting and strikingly beautiful.
.