Your Christmas tree is the heart of your home during the holidays. Whether you buy a real, living tree every year or throw some ornaments on a potted plant, you need your tree to dazzle and shine — which means you need to think about its design well before the holiday season. Here are a few tips for decorating your Christmas tree with style and class.
Get Creative With Color
Traditional Christmas colors are red and green, but there are no rules that state you can only use these hues when decorating your tree. In fact, some of the most eye-catching Christmas trees rely on unconventional colors to grab attention and establish the tone for the rest of a home's Christmas décor.
Color should be your first consideration in tree decorating because it has such a profound impact on the look and feel of the tree's décor — and the holiday atmosphere for the rest of your home. For example, it is much more difficult to create a sophisticated and minimalist holiday ambiance when you decorate your tree in bright rainbow colors. You can use tools like Coolors or Colormind to create holiday color palettes, or you might opt for a monochrome look in Christmassy hues, like white, gold or blue, which is a trendy color for this year's Christmas celebrations.
Decide on a Theme
A theme is not necessary for your Christmas home décor, but it does help make your decorations cohesive, comprehensible and comfortable for you and your holiday guests. Using a theme in decorating not only your Christmas tree but the rest of your home makes it easier for you to achieve the look and tone you are hoping for during the holiday season.
Some themes offer a more casual ambiance while others encourage formality. You should consider the events you are hosting over the holidays — and who will attend — before deciding upon a theme. Some example themes to consider include:
Plan for Kids and Pets
All it takes is one determined toddler or an unwatched dog to topple your Christmas tree and ruin all your hard work. Before you make any final decisions regarding your Christmas tree décor, you should consider how your kids, pets and other chaotic household elements might interact with your tree. If your children are younger, you might choose a family-friendly tree design that does not include breakable or valuable decorations. Likewise, if your pets tend to be active and curious, you might keep ornaments off the lower branches or set up gates that prevent access during the holiday season.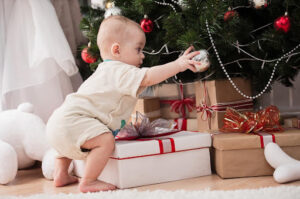 Coordinate Tree Accessories
When you think of decorating your tree, you almost certainly imagine lights and ornaments — but there are other accessories that you should keep in mind. For example, if you are acquiring a real tree, you will need a stand to hold the tree upright and a skirt to cover it. These components should match your color scheme and blend into your décor theme. Likewise, you might want to invest in a new tree topper that fits your holiday vision. Regardless of what you hope to achieve in your Christmas tree décor, you should always take safety precautions like placing trees far from sources of heat, like fireplaces or radiators, and you should be careful not to overload your electrical outlets — or you might see your homeowner's insurance rates increase.
Find Matching Wrapping Paper
Everyone knows that Christmas presents belong under the tree until they are opened on Christmas Eve or Christmas Day (depending on your family traditions). Thus, you should consider those presents to be critical components of your household holiday décor. You should invest in wrapping paper that suits the colors and themes of the season, and you might request that your family members use only that wrapping paper this year. Any extra wrapping paper from previous Christmases might go on gifts that will be sent out of your home, so no paper goes to waste.
You get to decide how your home looks and feels during the holidays — and you should start by designing your Christmas tree. The sooner you know exactly what you want for your tree, the better the holidays will be for everyone in your home.